FACTCO hosted heir first community event at Wheldrake village hall last week. This was an opportunity for people to meet their allocated FACTCO Community Fibre Lead, Craig Morley, and discuss any questions they had about the delivery of a full-fibre broadband network to the village.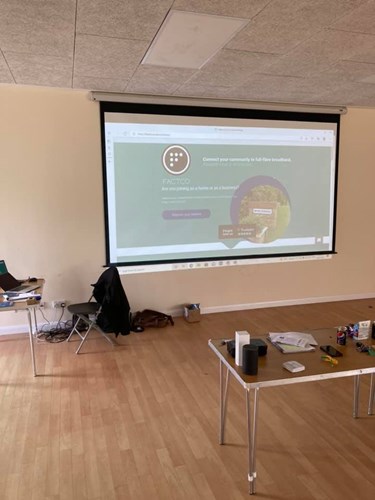 The response from Wheldrake following the community engagement event was positive. The upturn of sign-ups over the last couple of weeks means we are almost ready to push this project on to the next stage of delivery.
For those that don't know, FACTCO are alternative broadband providers, who specialise in connecting communities to gigabit-capable networks. We worked with them in 2019 to connect The Shambles to a gigabit-capable broadband network.
"After connecting The Shambles and elevating the potential of businesses on this historic street, we understand the importance of a good internet connection. Since 2019, the FACTCO team has been connecting residential areas across the UK, and York is one of the areas we wish to support. We're excited to work with Digital York to connect these communities and give them access to all that increased connectivity has to offer" - Lee Murphy, Managing Director at FACTCO
Vouchers worth up to £1,500 for homes and £3,500 for businesses are available to help to cover the costs associated with installing a full-fibre broadband network as part of a group project. The aim of the event was to inform residents of how group projects work, as well as raising awareness of the UK Gigabit Broadband Voucher Scheme, which will be utilised to install the network.
The community event for Elvington has been arranged for 27th August at the village hall.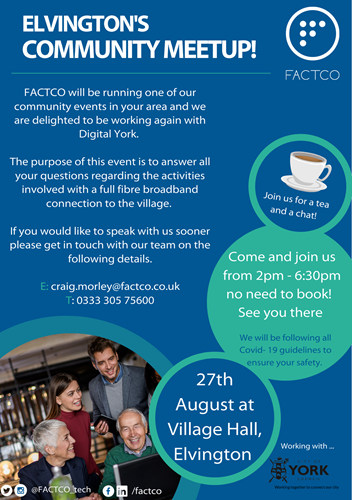 We're expecting the project to expand into the surrounding villages (Escrick, Riccall, Deighton, Crockey Hill and Thorganby) if the demand is the same.
"Fast reliable connectivity is no longer a luxury, it is an essential tool that we need to keep people connected for work, and with their communities. Over the last 18 months, we have all seen how critical good connectivity is, and with the rollout of these services even further rural locations will no longer be behind more central areas in terms of connection speeds. We're committed to working with providers to ensure that residents in areas around York have the best connectivity possible" - Cllr Nigel Ayre, Executive Member for Finance and Performance for City of York Council
If you live or work in either village, please take a moment to register your interest with FACTCO by visiting the respective project pages below:
Alternatively, if you have any further questions,  you can contact your Community Fibre Lead, Craig by phone on +44 (0) 7754 854 038, or by email at [email protected].