Get Online Week is next week and Explore Libraries are ready for it! Explore Centres at Acomb, Tang Hall and York are running specific sessions to help people get connected and confident online.
From getting to grips with the new Explore app; to downloading e-books and audio books with your library card; to Digital Tech and Tea sessions – there really is something for everyone!
Come along and find help with smartphones, tablets and laptops:
Acomb Explore, Front Street, Acomb YO24 3BZ

Explore the Explore Library App: Monday 16th 11.00-12.00 a drop in session to learn about our new library app, how to use it and its benefits.
A Digital Tech and Tea Session hosted by York Cares – Friday 20th, 10.00-12.00 drop in.
Explore Tablets/Smartphones: Tuesday 17th October 5pm – 6pm, A one to one course to help beginners to use their smartphone or tablet, please book by calling (01904) 552651
Explore Windows 365: Thursday 19th October, 3pm – 4pm.  A one to one course to help beginners to use the new Windows 365 on our Public Access PCs, drop in.
Tang Hall Explore The Centre @ Burnholme, Mossdale Avenue, York YO31 0HA

Explore Computers:  Tuesday 17th October 12pm – 1pm, A one to one computer course for absolute beginners, please book by calling (01904) 552655
Explore the Internet: Tuesday 17th October 1pm-2pm, A five week computer course following on from Explore Computers, please book by calling (01904) 552655
Explore the Explore Library App: Tuesday 17th October 2pm-3pm, a drop in session to learn about our new library app, how to use it and its benefits.
Explore the Libby App: Tuesday 17th October 3pm-4pm, a drop in session to learn about the Libby App, how to access e-books and audiobooks.
Explore Tablets/Smartphones: Wednesday 18th October 2pm – 3pm, A one to one course to help beginners to use their smartphone or tablet, please book by calling (01904) 552655
Explore Windows 365: Wednesday 18th October 3pm-4pm, A one to one course to help beginners to use the new Windows 365 on our Public Access PCs, please book by calling (01904) 552655
 A Digital Tech and Tea Session hosted by York Cares – Thursday 19th October 2pm-4pm
York Explore Library and Archive Library Square, York YO1 7DS
Explore the Explore Library App: Wednesday 18th 2.00-4.00 a drop in session to learn about our new library app, how to use it and its benefits.
A Digital Tech and Tea Session hosted by York Cares – Wednesday 18th, 10.00-12.00 drop in.
Explore Computers:  Thursday 19th October 3pm – 4pm, A one to one computer course for absolute beginners, please book by calling (01904) 552828
Explore Tablets/Smartphones: Thursday 19th October 4.30pm – 5.30pm, A one to one course to help beginners to use their smartphone or tablet, please book by calling (01904) 552828
Explore Windows 365: Friday 20th October, 2 sessions 10-11 and 11-12.  A one to one course to help beginners to use the new Windows 365 on our Public Access PCs, please book by calling (01904) 552828
Explore the Internet: Saturday 21st October 10.30am-11.30am, A five week computer course starting on this date, following on from Explore Computers, please book by calling (01904) 552828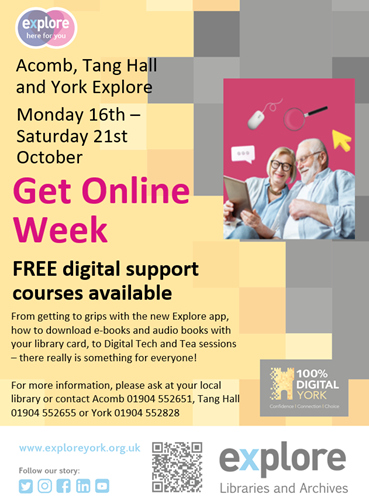 For more information contact Acomb Explore 01904 552651; Tang Hall Explore 01904 552655; York Explore 01904 552828; or visit https://exploreyork.org.uk/