The world famous JORVIK Viking Centre is one of the most popular visitor attractions in the UK, welcoming 19 million people in the past 35 years. It offers a range of multi-site visitor experiences including a virtual journey through Viking-age life as it would have been in 10th century York.
After heavy flooding put YORVIK Centre quite literally under water in December 2015, the team behind one of Yorkshire's most celebrated visitor attractions might have thought they had weathered all that nature could throw at them.
Then COVID-19 hit and a whole new set of challenges presented themselves, not least a lengthy closure that saw visitors kept away for even longer than the year it took to reopen after the 2015 floods.
Mustering the spirit of their Nordic ancestors, when the UK went into lockdown, the JORVIK team quickly set to work on digitalising their offering, creating imaginative solutions to continue to reach audiences and inspire the next generation.
JORVIK Viking Centre is owned and operated by York Archaeological Trust (YAT) – a 200-strong independent educational charity that brings together museums and attractions with hands-on archaeological experiences.
The trust was founded in the 1970s following the seminal Coppergate Dig, which was a five-year project that led to the discovery of thousands of ancient artifacts from Viking Age York, or as it was then known, JORVIK.
Many of those artifacts are now on display at the Viking Centre, which itself is built on the site of the Coppergate excavation, in a typical year welcoming hundreds of thousands of visitors who each want to be transported back to one of history's most unique periods.
Like many other time-capsule style attractions, one of JORVIK's biggest draws is being able to walk through its fully reconstructed 10th century Viking village and get up close and personal with the sights, sounds and smells of a forgotten age.
When COVID-19 made such experiences impossible, Director of Attractions Sarah Maltby had a big job to do, turning to digital technologies in more ways than ever. She says: "We had to close throughout the lockdowns and very quickly realised that there was an opportunity with digital."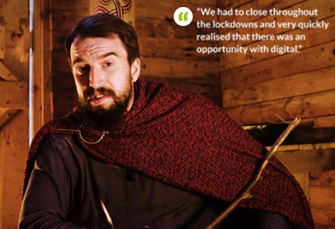 "During the first lockdown, we put in place digital programs and packages that would continue to attract people and enable them to talk to us and see what we had to offer."

- Sarah Maltby, Director of Attractions
"So, during the first lockdown, we put in place digital programs and packages that would continue to attract people and enable them to us and see what we had to offer.
"We wanted to make it so that people could see everything we normally offer at our attractions at our virtual events."
One of the first actions Sarah and the team took to achieve this was to livestream sessions about the archaeology and history of JORVIK to the school audiences that would typically come to the centre in-person.
Presented by the Viking re-enactors who would normally be working in the remodelled 10th century village, these sessions actually enabled more school children than ever to learn about JORVIK.
Sarah explains: "The livestreamed sessions opened us up to a much wider audience because our catchment is normally about a 60-mile radius from York.
"We started to get more and more international schools showing interest and a lot of schools now will do a virtual session before or after they visit. It's opened the doors to a huge range of audiences we wouldn't normally reach."
Another aspect of JORVIK's digital transformation is the 3D ride experience that has been enhanced in the wake of COVID-19. Sarah explains: "We found that some visitors coming back after COVID were a lot more nervous about going on the ride so what we've done is recreated the ride in 3D so you can do it on a tablet or iPhone and be accompanied by a Viking.
"We also did a lot of 3D scanning of our artifacts so that when you come to a specific part of the ride around the Viking village, a 3D image will appear on the screen next to you giving visitors a more interactive experience."
Off the back of this push into the digital space, Sarah has appointed a digital engagement team that is dedicated to enhancing the virtual experience of JORVIK through content creation, videography and website development.
The team will also be charged with giving people a more unique insight into the archaeological work that started with the Coppergate Dig and is still ongoing across York today.
"I think there's a massive opportunity for digital engagement across the world," says Sarah. "What we'd like to do is make the archaeological process more interactive and livestream what's happening on site so that if we discover something in real time, the audience can actually see the find coming out of the ground."
What's clear from Sarah and the team's experience of the last couple of years is how pivotal digital technologies can be, not just in terms of business continuity but also in attracting new audiences and creating new experiences.
And now, armed with a suite of digital programs and packages for schools and a digital engagement team that is brining people closer than ever to ancient discoveries, the future of JORVIK Viking Centre looks just as exciting as its past.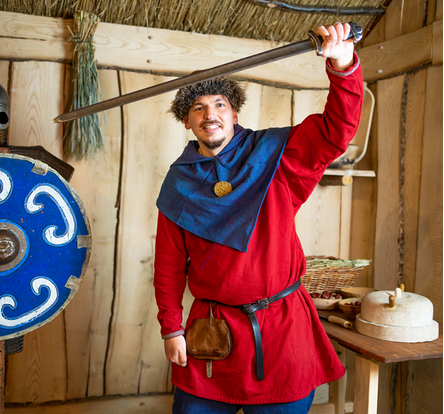 Main takeaways

JORVIK Viking centre was flooded in December 2015 and remained closed for a full year while being restored.
JORVIK reached 3.6m people on Facebook in 2021, nine times the number that visit the centre every year.
The online educational workshops JORVIK runs have been enjoyed by thousands of schools across the world.
*Credited to Digital Enterprise Ltd - https://www.de100.co.uk