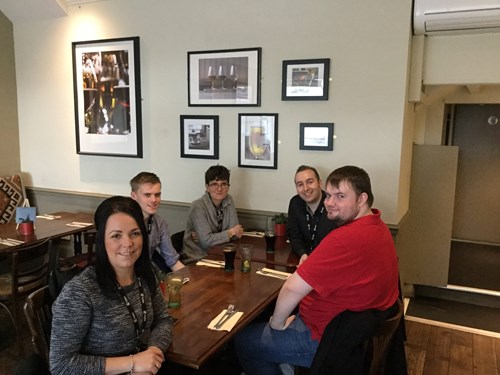 Rob McNally - Digital City Manager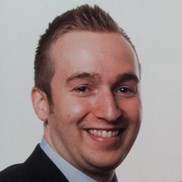 What is your background?
From 'alifax. Originally studied Graphic Design and Advertising & Marketing at College but arrived in Local Gov ICT at Calderdale Council in 2005. Have taken on a variety of projects/roles since including the Council's Local Land and Property Gazetteer (LLPG), a stint on the Service Desk and even dabbled in some HR and Payroll at one stage.
What was your last job and what were you doing?
Broadband! Overseeing the Council's BDUK project to increase superfast broadband coverage in Calderdale from 77% to 95%. Leading on 'Demand Stimulation' including promotion of our Business Support programme. I also took on the Super Connected Cities scheme within my remit when the project scope was widened to include the Calderdale area.
'Digital' is a real catch-all term; inevitably I also became involved in several Digital projects around access to the internet, the creation of Smartphone apps, and the provision of digital infrastructure amongst many others.
What made you want to join the (greatest) team?
I love challenges. CYC are ahead of the curve – doing my bit to help York become the best connected city in the UK really appeals to me. In order to do this we will need to be innovative and creative. The work starts here!
What can we expect from you here?
Enthusiasm and positivity. I'm very proud to have been given the opportunity to be the Council's Digital City Manager and join such a great team. I take my job seriously but I don't take myself too seriously! I'll work hard to achieve our goals, with a smile on my face (well, most of the time!).
What do you like to do away from West Offices?
My three year old keeps me pretty busy! Other than that I am a long suffering Newcastle United supporter.
Contact me about: Connecting Rural Communities, Connecting People & Digital Inclusion
Lindsay Wilkinson - Digital City Executive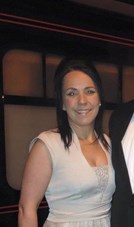 What is your background?
I was born in Leeds and moved to the York area when I was 4 years old. I grew up in a small village called Wilberfoss where everyone knew your business; which is why I'm a complete city girl! I was a little rebellious as a teen and after two years at the local state school I was sent to a private school that meant I had to go to school on Saturday's too! I completed by GCSE's and A-Level's and then promptly moved to the Island of Kos, Greece for the summer aged 18. After a few small jobs I moved to Stockton on Tee's and became one of the top ten sales people for Churchill car insurance at just 20 years old! I then moved back to York and started a 15 year long career for a global telecommunications company called Cellhire.
What was your last job and what were you doing?
I worked at a local telecoms company called Cellhire for 15 years. I started off as a sales negotiator answering inbound sales calls at the tender age of 21. I worked my way through the ranks into project management and managing customer support and customer service teams. I then moved into Account Management after about 7 years and looked after large corporate accounts with a view to increasing revenue and profit year on year. In my final few years I managed sales staff whilst maintaining my own sales target and helped set up a fixed line division for the business. With an outstanding record of over achieving targets I was given a final year target for 2013/2014 of £1.6 million which made me re-evaluate my life!! And after working with the super connected cities team on the voucher scheme and meeting Roy, Steve and Joe I decided to jump ship and join the team; leaving ironically on my 15 year anniversary! And here I am now.
What made you want to join the (greatest) team?
Having worked on the super connected cities voucher scheme in my old company I was very passionate about how this could help York SME's. I was also equally excited about all other projects that the team worked on and knew that I could bring my knowledge and experience, both commercially and with my project management background, into the team and make a real difference.
Having had my first interview in 15 years I either nailed it or they were totally desperate as I was offered the job just over an hour later! I absolutely love my job and it was the best decision I made coming here and long may it continue!
What can we expect from you here?
If you're going to do a job right, do it successfully and to the best of your ability. For example, I joined CYC in April and we had a target of issuing 250 vouchers to SME's which I promptly doubled to 500 – by the close of the scheme in late October we issued 751 which I'm extremely proud of the whole team for achieving.
I can be very demanding and expect hard work, but I always aim high and take pride in everything that myself and the team work on. And if you haven't already noticed I love a good photo opportunity at networking events!
From my sales and commercial background I bring a different aspect to the projects we work on and I know that as a team we will ensure that York is the best connected City.
What do you like to do away from West Offices?
My biggest passion outside of work is cooking. I am forever trying new recipes and have so many cookbooks and recipes in folders. When I eat out I frequently try and recreate dishes that I've had!
Outside of this my life consists of dealing with a bunch of draining teenagers and an equally draining partner! Still love them lots though!

Contact me about: #CodeYork, Broadband Connection Vouchers Scheme & Connecting Communities
Joe Beresford - Digital City Officer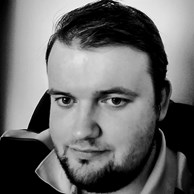 What is your background?
I was born and brought up in Doncaster for most of my childhood before moving to Selby for high school. Following that, I decided to go study business at York College for 2 years in a BTEC Diploma course. I visited York on many occasions before college but it was during this period I became very passionate about the city, business and digital technology, even doing a brief stint of work experience at Shepherds Construction.
Following college I worked in a small law firm in Donny for a couple of years before being made redundant due to financial restraints and joining the council as an apprentice in Major Projects. This role encouraged me to use my creativity which helped me thrive. It was at this time I created the concept of a small apps based festival for York which led to me joining the Innovation Team, upon successfully concluding my apprenticeship, in order to help make it a reality in February 2013.
After this role, I did drips and drabs around the council including researching for the successful UNESCO bid before joining the Digital York Team in March 2014.
What was your last job and what were you doing?
I worked in administration for the adult learning team at the council for 2 months. I was often filing, dealing with learners face to face or on the phone. This was a huge learning curve for me and I was grateful for the chance to develop my customer skills.
What made you want to join the (greatest) team?
The vision I was presented with of a digitally active community, enabled by world class infrastructure to make a huge difference to the whole city and further afield. While the team I started with has all now left, (was it me?) the overall vision has survived and I'm excited to be helping overcome any challenges we may face.
What can we expect from you here?
The unexpected! I'm keen to find new projects and ways to encourage everyone to be as enthusiastic and excited about our digital future as me! 

You can also expect me to build team morale on a daily basis. With bribes...chocolates and good humour!
What do you like to do away from West Offices?
I love to visit new and exciting places, game a little....ok a fair bit, learn to code and I'm learning to speak a new language on the side! (Japanese – I'm very interested in the culture and was incredibly lucky to visit the country in May of 2015!) 

All that while being a long suffering supporter of the amazing Doncaster Rovers (its ok, I'm not sure many people know who they are either)
Contact me about: Broadband Connection Voucher Scheme, #CodeYork & Connecting Communities
Karen Boardman - Digital City Officer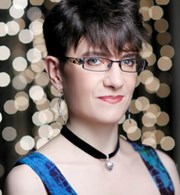 What is your background?
I was born and brought up in Edinburgh. Despite no Scottish accent I am fiercely patriotic and hope to one day see Scotland win the 6 nations. I started out working in hospitality and eventually did an HND in Hospitality Business Management. Realising that I wanted to spend more time in daylight and experience a 'weekend' I decided to leave hospitality and follow my other interests in information and technology. I ended up working in Libraries which then lead me on to apply for a job with the Arts and Events team at CYC as I was also interested in events. The rest, they say, is history!
What was your last job and what were you doing?
I was working on the Community Hubs Project supporting community centres in York become more independent. Whilst doing this I also supported the newly formed self-help network of community venues in York. It was a very rewarding job as I got to meet so many lovely people and saw first hand how much time and work volunteers put in to keeping our community centres and venues open.
What made you want to join the (greatest) team?
My love of all things digital! I am a bit of a techie and married to a self professed IT geek so it is what I live and breathe!  I applied to join the team the first time the positions were advertised but was just 'pipped at the post'. Nevertheless I got a second bite of the cherry the second time round and was delighted to be welcomed into the team.
What can we expect from you here?
A lot of Monty Python references, a vast amount of Rooibos tea drunk and a lot of laughter as Joe completely cracks me up!  You will also expect me to 'get stuff done' as I think that's what I do best. Whatever it is, leave it with me and I'll get it done.
What do you like to do away from West Offices?
I love being outside. My husband and I keen backpackers and love to walk long distance paths. We've conquered the West Highland Way, Hadrians Wall path as well as sections of the Cornish Coastal Path and the Cleveland Way. I also love my bike and take every opportunity to get out and about – so if you ever want anything delivered, I'm your girl! When I get time I really enjoy Yoga and running.
Contact me about: Broadband Connection Voucher Scheme, Connecting People & Digital York Board
Jae Beavers - Digital City Assistant

What is your background?
I had left school after attending York High in 2014 and throughout school holidays and even in my spare time I would try to build my CV. I applied to work at lots of places to gain work experience and gain an inside knowledge of how businesses work. My previous experiences include working at a local Tesco next to my college for 18 months; I gained areas of my sociable skills that I lacked before going into the job. My first year at college I studied Computing, Business, Psychology and Maths at A Level, but  I later decided I would rather work for a year and then come back to college. I have always had a passion for IT but never knew what aspects of it I enjoyed. Since I was little I can remember always gaming and knowing how to use technology as soon as I picked it up without needing any instructions.
What was your last job and what were you doing?
My last and first job I worked at Tesco on the checkouts, which basically meant I was sat for several hours a day asking people if they wanted any bags with their shopping and I'd scan their shopping and make sure they paid for it, there was times I had to chase people. That sums up the job really, I first started working as soon as I turned 16 and had left school. 

I suppose I did enjoy the job for the start, but I didn't like coming into work every week doing the same thing every day for 18 months. Where as here at Digital City I love coming into work because there is always something new for me to do every week.      
What made you want to join the (greatest) team?
I had done some previous work experience for the council when I left school in 2014 and I got a taste of many aspects of IT which gave me and brighter idea of what I wanted to do in the future. I recently did some more work experience for the council in June 2014 which is when I first worked with the Digital City Team. What I loved about it was that it linked IT and business together which fascinated me because I studied both subjects during my first year at college and it felt like a fit.
What can we expect from you here?
I want to be involved in all the projects we are running and I want to have a clear insight on our goals and the opportunities we will have as a team. I am dedicated to helping the team out because after all we are providing for the community and what better satisfaction can you get then helping someone else out? You can also expect some witty humour from myself, some bad jokes and the occasional present.
What do you like to do away from West Offices?
Hanging around with friends, I like going to the gym as it's what I've been doing for the past 3 years. When I can I love supporting my team Liverpool FC and mocking Rob about his poor choice in a football team (Newcastle) I love to play football when I can but more importantly I'm a big gamer, I love my games. I play mainly on Xbox and PC but I love it because it relaxes me and it's something I can do with friends, if we don't laugh at least once a day then it's a waste of a day.  When I have the money (Rarely) I love to go travelling around the world, my favourite place is America! Having recently visited New York City back in December 2013. I love big cities because it means there are lots to explore, which means I usually find myself spending even more money on novelty presents.
Contact me about: #CodeYork, Website & Social Media Enquiries
Tyler Potter - Work Experience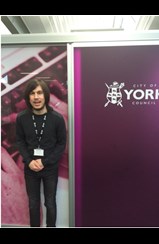 What is your background?
I attended Manor school in York to study creative media. During this time I worked with radio plays, digital imaging, Photoshop, digital video & editing. During our final piece of coursework, myself and my class went on to create a 'dinner theatre' in which we catered food and sold tickets to the public. Myself and my class controlled everything including the lights, sounds & props. The build up to this point was comically entertaining to watch, we got staff in the School to act in the play, they had to be choreographed and auditioned. At the time of the final performance I was in charge of all the videos that we're being broadcast onto an overhead projector, everything that was appearing on the projector was being displayed by me whilst I was in a control room.
I then went on to study at York College, I started off on a level 2 general computing course, which later progressed onto doing a level 3 networking course for the last 2 years of my time at college. I have studied areas of networking such as how to create networks, network infrastructure, PC maintenance, business integration and E-Commerce.
What work experience have you completed?
I completed my first lot of work experience with my dad at York central pub. We mainly fixed and cleaned electronic equipment such as speakers and any other electrical device that needed it. I did this with my dad for a couple days a week over the holidays for the past few years.
I then went on to do some work experience for a computer repair shop in Tang Hall, I worked on servicing, fixing, cleaning, ordering new parts, sales and refurbishing old computers. The rest of my time at that shop was enjoyable on a quiet day because I got to sit back and relax for a bit.
What made you want to join the greatest team?
I have wanted to join the council for a couple of years now, I heard about how much of a good place it is to work, heard the staff are kind and respectable. Overall I mainly wanted the work experience and I thought the council would be the perfect step for me. I wasn't sure what to first expect when I joined Digital City, but so far I couldn't be happier! But I have to admit the high top sofas were the selling point for me!
What can we expect from you here?
Somebody who thinks and see's things from a different perspective, I'm looking to bring fresh ideas into the team. I have experience with creative software and l am dedicated into being as involved as I can possibly be, to help with my development and have a greater insight into what goes on inside the council. I want to get to know the team and look forward to growing closer to them all.
What do you like to do away from west offices? 
I love to do some creative writing! My favourite genre is futuristic sci-fi, I like to picture what humanity might look like in the future, watching a variety of TV shows and my favourite films such as District 9 helps me think how I would've done things differently which encourages my passion for creative writing. When I'm not releasing my inner Stephen King I am a huge lover of video games! Again I will play anything sci-fi, my very first console was an Xbox 360 but these days I'm more of a PC kind of guy. For my fellow geeks out there, I love MMO's (Massively Multiplayer Online) because I'm interested in how they work. I like games such as Halo, Borderlands, Planetside and XCOM! Don't worry, I don't trash talk. I like all kinds of music, but at this point I'm mainly listening to electronic music and I enjoy keeping up to date with all the latest news and events.